October 11 (Thu), 2007
#2 Kimiko Matsuo
Coordinator/Graphic Desiner of Harlem Connection, Inc.
(She's been in the US since November, 2002)


If guys say you look fabulous, you should give them a smile and say, "Thank you!"
This is the second interview in New York. We introduce you a woman who works as Tommy Tomita's right hand. Kimiko Matsuo is in charge of the Harlem tour booking, tour guiding and producing of tommytomita.com.
Also she teaches Japanese language at a high school in Harlem. In addition, she is a member of the "Harlem Japanese Gospel Choir" and feels black people's heritage with all her senses.
This is a story about "Women, Harlem and New York".

*Interview at City College of New York (138th St. Manhattan, NY)


Japanese


One of my activities is to sing gospel music with the Japanese choir. Its organizer is Japanese and he told me about that. When I came here, I liked hip-hop and rhythm & blues. But I'd never listened to gospel. However I knew gospel is the roots of black music. So I wanted to try to sing it and went to the church.
A preacher told me its history. According to him, when black people were taken to America as slaves, they sang songs for help. They had their own surnames, but those were changed by their white masters. They had lost their history. I felt that gospel is a very important part of the heritage of black people. I got into it after I learned about gospel.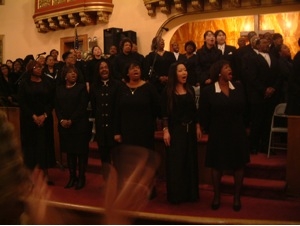 Gospel is the "good news" from God. Some members of gospel choir get excited and start to cry or faint away. Slaves established their churches, they got together and sang their music very quietly. I understand the history but I can't empathize with it. But they teach us about gospel very well because they want us to learn about God.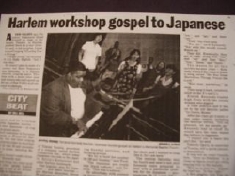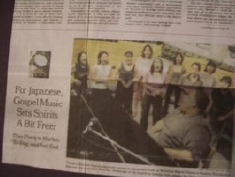 Articles of Harlem Japanese Gospel Choir



It was a tossup.
I've been in love with black music since I was a high schooler. I read many books and I got interested in black culture. I began surfing before I graduate high school and surfing friends told me about reggae music. After I entered university, I became a discomaniac and I went to places where I could dance to black music. I really loved it.
Then I entered the entertainment company in Japan, but Western music is not as popular as Japanese pops in Japan. I worked hard but I was not so happy with what I did. Even if I thought I wanted to introduce a Japan tour of a wonderful reggae musician, I couldn't do that. So I went overseas twice a year to reflesh myself.
When I came to visit New York, I met with Tommy. I was just a tourist who joined his tour but I envied him because he experienced real black culture very much. He seemed to make a living by doing his favorite things.
When I came here again, he said that he needed an assistant and he asked me to join his activities. I felt that I could see what I would be in Japan at that time so I wanted to do only my favorite things. It was a tossup and I didn't know what would be happening to me but I came here because I really wanted to join him.



I felt I would live here viscerally.
When I came here, I didn't think I would be back home someday. I was going to devote myself to do things here. I decided not to go back to Japan until forging a self-identity.
When I decided to settle down here, I got interested in people. What I looked at with interest was totally different from what I saw on trips.
I came to Harlem directly from Japan. I like other areas also but the place where I "live" is Harlem. I sometimes visit Brooklyn or other areas, but I've never thought that I wanted to live there.
I felt I would live in Harlem viscerally. You can experience black culture in many places because black people live in various areas in US. But I think black culture is concentrated in this area and integrated into our everyday lives. That's Harlem.
I got excited at everything what I saw. When I saw an old guy sitting on a chair, I felt It was like a clip from a movie. I was excited at everything when I srated to live here.



A gunfight in front of the church.
Fortunately, I've never had a dangerous experience. Something dangerous has never happened to me and I've never seen crime scenes here.
But a gunfight occured in front of the church on the day before I went there to sing gospel. A guy was killed by policemen there. I got to know that on a news show. I went there and our preacher told me that he saw a guy hiding behind a car and that guy exchanged gunfire with policemen dozens of times.
Also a jazz bass player has been arrested suddenly for supporting al-Qaeda. I found his photos on TV and newspapers and those were exactly the same as him who I had met on a previous day.



Harlem always reminds me that I'm a woman.
American people are generally ladies first. Especially in Harlem, women will feel really good because guys praise women very much. When we walk on the streets, guys say "You are gorgeous!". Even if we don't put on makeup and look bad, guys praise us.
It makes us really happy. Women need to be praised and we always have to be conscious that we're women. Otherwise we wouldn't be able to retain our beauty. Guys always remind us that we're women. Guys always praise us so we feel happy.
Women in Harlem always put on gorgeous clothes. Even old women put on slinky clothes and display their cleavage when they go out. I also will try to keep my looks. And if guys say you look fabulous or something like that, you should give them a smile and say "Thank you!" here.



You can access the "real" things very easily.
My favorite thing in NY is that you can access the "real" things very easily here. You would be able to see your favorite musicians right over there, or even next to your seat. I'm really happy with such a wonderful place.
On the other hand, I don't like the scarcity of service in shops, stores and so on. If your phone breaks down, you will have to wait more than a week until it's fixed. But they don't feel sorry for us even though we wait for a long time. It happens so often here.



We need to keep essential qualities.
Harlem is changing rapidly. A number of murals has decreased. Many traditional shops have closed their shutters. Condos and supermarkets have been built there and it has gotten more convenient. The number of new residents has increased and new shops are starting their businesses. Organic food shops, internet cafes and flower shops are built here. Then culture changes.

*Harlem Photos: Click here.

Harlem is definitely changing. Some of good old buildings are untenanted. I think those vacant buildings should be treasured even if it costs much money to do that. So what if new commercial buildings and new discount stores are more economically feasible.
But to be honest, you should move to Upper West Side if you want to live in a convenient area. We don't need convenient chain stores. We need to keep its essential qualities and change this area little by little.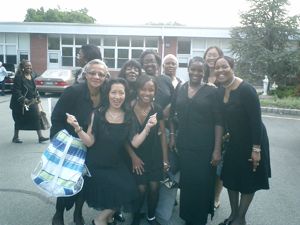 What is New York and Harlem to you?
New York people have many backgrounds
so nobody says, "You should be like that".
And you can enjoy music everywhere in Harlem.
To me, Harlem is music.

Kimiko's Link