April 29 (Wed), 2009
#22 Barysiuk Viktoryia
Belarussian restaurant manager
(She's been in Japan since 2001)


We can do many things by using profits we generate by ourselves.
So I feel I'm alive!

Long time no see! I'd been writing my book "My Eyes Tokyo" for six months (If you want to learn details of the book, click here!). I will keep on interviewing expats strenuously.
BTW, I would like to introduce you to Barysiuk Viktoryia, a manager of a Belarussian restaurant in the central Tokyo. She speaks Japanese very fluently and it sounds really gentle. But she is not just sleek. She has sparkling eyes.
As a manager, as a woman, and as a mother, she's been living in a place, 8,000 km away from her homeland. I thought that challenges to the unknown and struggles with difficulties entrenched grittiness in her.

*Interview at "Minsk" (Azabudai, Minato-ku)

*If you want to know about her restaurant, click here!





Many chances in Japan.
I came to Japan in October, 2001. It was just a year earlier I opened the restaurant "Minsk". My nephew got married to a Japanese man and had already been here.
But she wanted me to come here because it would be more comfortable for her if I lived near her. She told me that there would be many chances here.
My classmates left Belarus to foreign countries such as US, Canada, Australia and Germany. So I also wanted to go somewhere else.
I decided to go to Japan after my nephew came here. What I heard about Japan when I was home were things like cherry blossoms, traditional festivals, skyscrapers, luxury brand shops, vehicles and watches. My impression was that every Japanese must be rich. So to me, Japan was a really special place.
But my nephew said that all Japanese were not rich. Some of them were subjected to live on very little money. But most of them were bourgeois. We foreigners also would be able to join the middle class if we studied the Japanese language and culture. Then we would be able to improve our lives.
Japanese culture is very different from ours, she said. Moreover foreigners, especially Westerners, are sharply distinguished from Japanese in Japan. Therefore we can never be considered Japanese no matter how long we live here.
But if each of us creates a good environment to live in, we can feel comfortable here. Japan is very convenient and there are many delicious foods and beautiful things. Here, people can get chances to work if they want to.



Better to fail than to regret.
I didn't have any experience working at a restaurant in Belarus. I didn't work there even as a part-timer. But I wanted to open a family-owned small restaurant in my country because I've loved cooking from a long time ago. But it was strictly limited to open that kind of restaurant there by the law.
I didn't have any plan to open a restaurant here when I came to Japan. I considered whether staying here or going home as I studied the Japanese language and culture.
Many of my classmates at a Japanese language school wanted to open restaurants here. But I thought it would be financially difficult for me to do that.
One day I went to join a meeting which was held by my friend. She led an NPO that was related to Russian culture. I met my current boss there. He was looking for an interpreter who could translate Russian into Japanese. I was just getting started studying Japanese so I couldn't interpret well.
He asked me what I was planning to do. I told him that I didn't know what I would do but I wanted to do something by myself. Then we talked about a plan of opening a Belarussian restaurant. I was not serious about it, though.
Later he found a space for a restaurant we talked about. His friend operated his own restaurant there but it was not well-managed and had to be closed. Things went along too fast. I didn't know about him very well. But he asked me to decide whether I would pursue my own business or stop going further. And he asked me to say YES or NO the next day. He told me it would be a big chance for me. I dwelled on it. I made a phone call to my family in Belarus. My mother suggested me going back home.
However I thought what he told me would be true. It would be a big chance for me. If I didn't try to grab it, I would be branded as a nonstarter for the rest of my life. Better to fail than to regret. So I said to him, "Yes, I will open the Belarussian restaurant."



"I don't care if you die."
I had a really tough time for a couple of months after I opened my restaurant. Not only me but also my boss and coworkers had to work very hard. The first one or two-months, we had few customers so I panicked. My boss said to me, "Do a good job. Cook well and pull some unpopular recipes from our menu. Serve new dishes and embrace a kind of entertainment. Then this restaurant's reputation will spread by word of mouth. As long as you work hard, you can have many customers."
If I invested in this restaurant and failed, I would have to take responsibility for my mismanagement. But someone else opens his/her purse, which means he/she expects you to succeed in the operation so failure wouldn't be tolerated.
Shortly after I opened the restaurant, we had daily sales of 140,000 yen (approximately $1,400). I was exhausted and collapsed on the floor. But I thought I did a good job so I called my boss next morning.
"Hi, did you check yesterday's performance?" He said, "What?". I told him we did a great job. He said, "If you think you did a great job yesterday, close this restaurant tomorrow. Great performance means selling twice as much as yesterday."
I was really surprised at what he said. "Hey, I would be dead if I tried to achieve that sales figure." But he said that he wouldn't care if I died. One month we had a good performance, but another month our sales went down. We repeated that procedure several times.



Big step forward.
Suddenly, we got busy. It was two years after we opened the restaurant. In February 2004, earnings jumped. I still don't know why but I'm sure that we wasted motion at first. We improved it and devised a way to deliver dishes more quickly. Now we normally can achieve sales more than double that of the early days. I learned business at the restaurant.
I'm far from ideal but I feel I'm alive! We can do many things by using profits we generate by ourselves. We are getting a return on investment from my boss. We will be able to finish paying it back to him by the end of this year. Now I feel really, really good.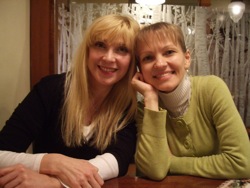 With Ekaterina, a Russian singer. She performs at
the restaurant "Minsk" from 6:30 PM on Wednesdays.




No Japanese friends who I can talk about my private affairs to.
Especially Westerners would feel that Japan is totally different from their countries. So they tend to build walls around themselves. It's not good. You should study Japanese and try to understand it. If you can't understand some things, don't stick with them. Some foreigners always complain about Japanese people's behaviors or manners but those are natural for Japanese.
The reverse could be said. Japanese people would be surprised at things which are natural for people in other countries. So I try to forget such things as much as possible.
On the other hand, I've never forgotten Belarussian culture. To show our heritage to Japanese people is one of my assignments. It's important for me to preserve my identity and also to create my place here.
However I still have a problem. I can't make friends with Japanese because our definition of "friend" is different from a Japanese one's. To us, "friend" means a person whom we can tell our private affairs to. No secrets. But Japanese tend to hide their private things from us so walls form between them and us. If they say they are my friends, we want to know things they are hiding.
In that sense, I don't have any Japanese friend. Of course, I have acquaintances. I tell my clients about my age or my family over the counter when I work here. But they don't open up their hearts that much. I won't say they are bleak. That's a difference of cultures so I can do nothing about that.



I learned the Japanese language when I faced difficulties.
When this restaurant opened, there was one Japanese co-worker and she picked up phone calls at that time. But after she quit, I became the only person who could answer the phone because other co-workers couldn't understand Japanese very well.
Listening to words over the phone was the most difficult thing. I was afraid of getting on the telephone because I couldn't see the movement of their mouths. Also if I couldn't understand even just one word, I missed what they told me completely. So I told them honestly that I'm not Japanese when I picked up the phone. Then I asked them to speak slowly and not to use complicated formal lines. I also asked them why they called us. Most of them called us to make reservations but some asked us to run ads on magazines. If I couldn't understand what they meant, I asked them to call our parent company.
In order to be able to guide people who lost their way to the restaurant over the phone, I remembered names of stations, buildings and streets around here. I made my own Japanese textbook and learned Japanese words to direct people. I had done those things for a couple of months and conquered my fear of answering the phone.
Classroom Japanese and business Japanese were totally different. I think we learn words when we face difficulties and we never forget them. We translate English, Russian or other languages into Japanese and learn some words in a classroom but we hear other words in Japanese for the first time at work. We don't know what they mean at first but we learn the meanings of words before long. That's the opposite way to learn words from the classroom. I think it's faster.



I want to stay here to keep doing this business.
I have a daughter. When she was 12, I asked her to come here. We had a tough time when I put her in school. Entrance fees and tuition of international schools are expensive so I put her in a public school.
But she couldn't fit in with the other children. A 12-year-old girl is treated as an adult in Russia and Belarus. On the other hand, classmates were childish from her point of view. Moreover she had to learn difficult Chinese characters even though she hadn't even learned elementary Japanese such as the alphabets. But her teacher said that she had to learn the same things as other classmates because that's their way. She managed to comply with that school for six months but she almost had a nervous breakdown. So I put her in the school affiliated with the Russian embassy and she felt so much better.
I don't know what she wants to do from now on. She is now 18 so she should choose whether she stays here or goes back home. If she chose the way by herself, she wouldn't think it's someone else's fault if she felt bad about her choice.
I will keep staying here for the rest of my life. I believe that I can't do my job in any country but Japan. I truly love my business. Japan is convenient in many ways and there are many things I like here.
I do my job and I'm happy if my business is beneficial for many people. I feel that kind of happiness here so I will keep on doing my job at this restaurant.



With her beloved daughter.



What is Tokyo to you?
A human-friendly city.
I seriously think so. Tokyo is easy to live in and convenient. Not to mention the public transportation system. Easy to go shopping. There are many hospitals. Convenience means gentleness.
Police officers were kind to me, too. When I asked them which way to go, they were kind enough to walk, carrying my bags and showing me the way politely.
But police have been questioning me often since I started a restaurant job. It's maybe because I'm a foreigner. Submitting to police questioning is a pain for me especially after I finish work. I've seen a police officer frisking a foreigner.
I think they work too hard. But I still love Tokyo.
Viktoryia's Link