July 26 (Mon), 2010
#3 I Believe That Dreams Can Come True (Part2)
Dream-inspiring-dream project


Living your dream is the easiest thing to do in life. What is difficult, is to pretend that your dream does not exist.

The interview "Big Generators" continues.
Tay & Val, Singaporean girls who carry out the global project called "I Believe That Dreams Can Come True", said bye to everything in their home and started a long, long journey to inspire people to pursue their dreams, prompt smiles from people and make them happy.
They're going to do this across the globe. They don't imagine how many people they'll meet. And they don't seem to imagine how many dreams they hear and talk to others about.
But I believe that their dreams can come true. They will make the earth a planet which is filled with dreams.

*Interview in Ebisu (Shibuya-ku, Tokyo)

*You can go to the first part from here!

*Big Generators:
#1 Eriko Yamaguchi & Motherhouse... Click here!
#2 Kenji Sekine & United People... Click here!




Japanese are shy, everything is expensive in Japan... NOT true.
(Val) That is the only difference between Taiwan and Japan. Taiwanese people like to share their dreams with each other. They are not too shy and easily get excited when they hear others' stories. When we were talking to each other about dreams, many people joined us and talked to us about their dreams.
(Tay) On the other hand, in Japan, especially in Tokyo, life is very busy. People are always rushing around. It's similar to Singapore. So someone told us that nobody would stop to talk about their dreams, especially to English-speaking strangers.
But we still wanted to try. We went to Asakusa first because we thought that people who took time off to visit temples or shrines would be at a slower pace, and we would be able to reach them somehow.
(Val) Once someone said OK and sat down next to our bicycles to draw, more and more people came and joined in. And every picture speaks volumes, every picture is beautiful.
(Tay) People who answer our call sat on the middle of the road and thought about what what they were going to draw very seriously. So we appreciate it a lot.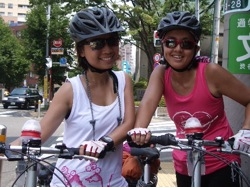 Val (left) & Tay (right)


People tend to stereotype Japan. Such as; Japanese are shy, Everything is very, very expensive... But I think those things are NOT true.
(Val) We've been in Japan for about 40 days and felt that Japanese are people with hearts. When we stay at someone's house, our host mother takes care of us very well. Also when we needed to stay at people's houses, they welcomed us.
(Tay) We found accommodations through the friends or our friends' friends.
(Val) Also some Japanese who saw our website mailed us. They said, "That's a wonderful project! If you are passing by my city, please come and stay with us." We've stayed at people's houses since we started this project even though we changed accommodations every night. We stayed at a hostel for only one night.
(Tay) In Taiwan, a woman took us in for a night. She invited her neighbors to a dinner. After dinner, we shared many stories with them and asked them about their dreams.
When we said bye to them, they said, "Thank you"" to us. I wondered why. They told us, "Because we could participate in such a wonderful project. You gave us an opportunity to look inside ourselves and take one step further".
(Val) I think the best way to say thank you is to pay it forward – keep traveling, keep meeting people and keep sharing their dreams with other people in the world.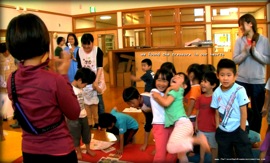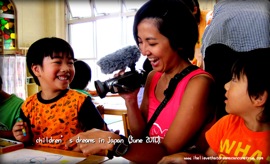 Sharing dreams with kids in Japan
June 2010



"How many of you DON'T have dreams?" Some raised hands.
(Val) We met a lady in Taiwan, who cycled around the world a decade ago. She taught me one thing; "To live your dream is the easiest thing. A difficult thing is to escape from your dream, to ignore your dream or to pretend you don't have any dream. So listen to your heart."
(Tay) We're not sports girls. So after a long cycling, we get tired and sleep. Then when we wake up in the morning, we remember why we're doing this.
We wake up every morning because we want to meet new people and share the stories with them. The reason why we wake up is because we have clear purposes or goals.
(Val) When we visited a school in Taiwan to share some stories with students, we asked, "How many of you don't have a dream?" Of course we were joking and expected that nobody would put their hands up. But actually a whole row of girls raised their hands. Teachers later told us that those were exemplary girls with top results. It was shocking that they do not have dreams.
(Tay) In our society, we listen to our parents and teachers when we are little kids. So it's very normal for us to say that we have no dream because we tend to do what our fathers want us to do, what our mothers want us to do, what our teachers want us to do.
(Val) At the end of the sharing session, one of those girls wrote on her hand, "I will find my dream". I think this is what sharing sessions are about.




We don't want to be tougher. We want to be gentler.
(Val) I couldn't ride a bicycle until last October. But since I started this project with Tay, I've already become a different person than before.
(Tay) We intend to spend five years traveling to South America, US, Canada, Europe and finally Asia. 5-year is a long time to predict what will become of us. I don't even know what will happen five days from now.
But we don't want to be tougher or stronger. I hope we'll be gentler, more open and more tolerant. We've already learned to say, "It's OK!". We couldn't say that in Singapore because it's a very competitive society.
If we can't go further, it's OK. If you have to stop, it's OK. We can say, "I can't do it". It's OK. We accept every good thing and bad thing, then we'll fulfill our assignment.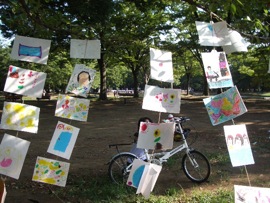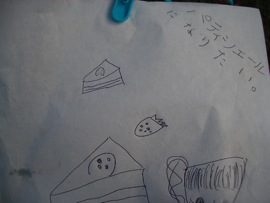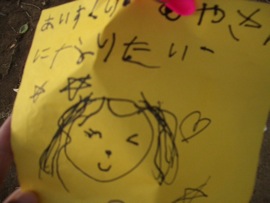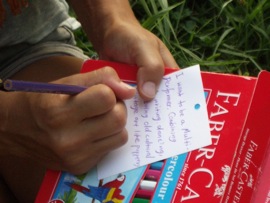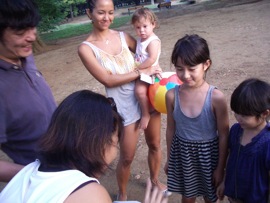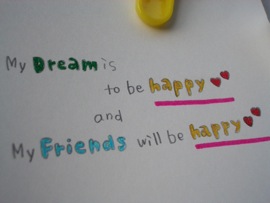 Guerilla Exhibition @ Yoyogi Park, Tokyo
August 22, 2010



What is a "dream"?
(Val)
A treasure box in your heart.
Please look inside your heart. There must be a treasure box. Look inside it.
(Tay)
Same! Things inside a treasure box that makes you happy, that makes you smile.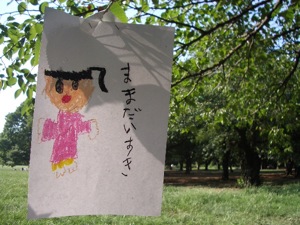 "Mom, I love you." painted by a nursery school child.




What is "your dream"?
(Tay)
My dream is to tell inspiring stories to people around the world.
(Val)
In Taiwan, a school teacher asked us, "What do you RECOMMEND our children to dream about?"
I answered, "The most important thing is to be yourself. Nobody in the world wants to be a bad person. So if you want to be yourself, you've already created a better world."
After the session, the teacher came to me and said, "Thank you. I remembered why I decided to be a teacher 20 years ago." Teachers have much influence, enough to affect hundreds of students who are responsible for the next generation.
So I believe in the power of one individual.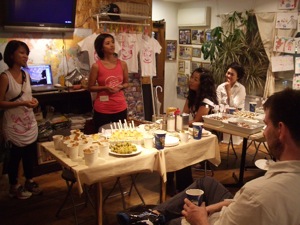 Debrief session @ News Cafe (Jiyugaoka, Tokyo)
August 27, 2010




Tay & Val's Links