November 21, 2010 (Sun)
#1 Savari Muthu
Indian cuisine@Okubo, Shinjuku-ku
(He's been in Japan since '94)

Indian cuisine possesses much potential.
So I cannot understand why some people don't want to teach how to
cook it.

My Eyes Tokyo brings you interviews with teachers of "Niki's Kitchen". It's a cooking school in which foreigners teach their homeland dishes to Japanese people.
The 1st interviewee is Savari Muthu, a managing chef of an Indian restaurant chain called "Muthu". He owns three restaurants in Tokyo and Chiba.
He says on Niki's homepage; "You may associate India with Hinduism, but I'm a Christian. Therefore I can cook anything including beef, pork and chicken." I got interested in a Christian Indian whom I had never met.
I asked Naoko Tanase, a representative of Niki's Kitchen, to provide a bridge from me to him. Thanks to her, I could have talk with an Indian cook - His kind smile can soften anyone's feelings.

*Interview at Muthu's 2nd outlet (Shinjuku-ku)

*Click here to learn about Niki's Kitchen.




An Indian restaurant which serves beef dishes.
I'm a Christian so I meet any people regardless of caste (an elaborate and complex social system in India, which combines elements of occupation, endogamy, culture, social class, tribal affiliation and political power) and eat any kind of meat such as chicken, pork or beef.
That's why I could serve beef dishes here, but no Indian people would come to eat if I did so. An Indian guy who works at an IT company in Tokyo told me that I would have no customers if I served dishes that use beef. So I took them off the menu.
But you can try beef here if you order a menu of the day item. I taught "Madras beef curry" to Niki's students in August, 2010.

* Click here and see how to spend the Christmas holidays in India!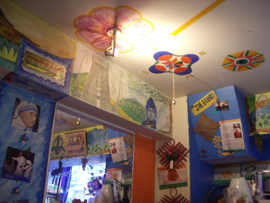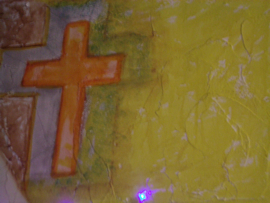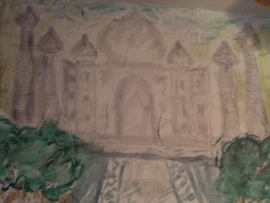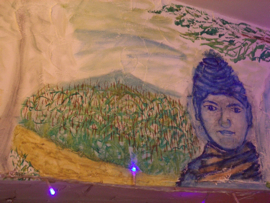 Interior of Muthu's 2nd outlet. Muthu drew patterns and paintings on the ceiling and walls.
(Lower right) Young Buddha. Many religious icons are drawn by Muthu and it shows
his open mind.



I want you to appreciate our food culture.
I started teaching at Niki's Kitchen in October 2009 and I've been giving lectures at my 2nd outlet since then. At my class, I use spices and ingredients that are available in Japan. If necessary, I tell students where to buy them.
Since opening my class, our sales have increased. My cooking class brought a huge advertising effect to us. Even if I close the shop every time I open a class, Niki's brings us enough profit. Also my students enjoy my classes and they become my customers.
Before starting my class at Niki's, I taught how to cook Indian dishes at my main shop in 2006. Then other Indian cooks told me, "Why do you teach our cuisine to Japanese? If they learn how to cook, they won't come to our restaurants." But I wanted to convey to them the depth of our food culture. Nowadays many Japanese chefs work at Italian, French or Chinese restaurants. I think they learned at homes of those dishes. Conversely, they won't master them unless they are taught.
Our dishes possess much potential. We have a variety of spices, our food is healthy, not greasy. I cannot understand why some people don't want to teach how to cook such great food. So I opened a class.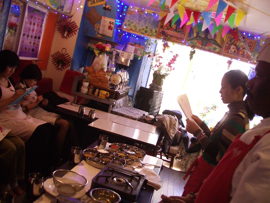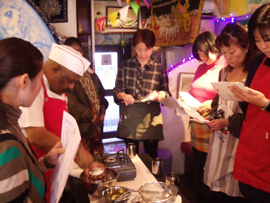 The woman next to Muthu is his assistant. Her name is Kaori and she used to be one of
his regular customers. She explains recipes in Japanese and Muthu focuses on demos.
Cooking class at 2nd outlet (December 19, 2010)



Leaving behind his wife at home.
I came to Japan in '94. I didn't imagine that I would be here before that. But I loved Japanese products and I've been wearing Seiko watches for a long time.
My daughter and wife are in India so I go back home once a year. I have a son and another daughter here in Japan but I miss the family I left behind. So I make phone calls to them everyday.
I want to see them a few times a year. But if I do so, who's going to take care of the restaurants? Who's going to open a class? So I can go back home at most once a year.
My wife couldn't come here because my daughter didn't finish school. But she graduated so I'll bring them here next year (2011).



Japan is the best place to open a shop.
Japan is quieter than India. Where I come from, we make some noise even if neighbors are around us because neighbors make noise, too. We develop neighborly ties in India, but in Japan, we don't know what our neighbors look like even though we live here for some years. In India, we can learn his/her family structure and their jobs when someone moves to the street next to us. We're open like that.
To me, both environments are acceptable. In India, everybody is like my friend. On the other hand, I preserve my privacy in Japan. I don't think which is better or which is worse.
But if you want to open your shop, I think Japan may be better. Because you can hold down labor costs in Japan.
In India, there is someone who washes plates, someone who cuts food, cooks for cooking meals and cashiers work at cash desks. Division of labor is not required by law at all, but we tend to do our daily routines or assigned tasks.
On the other hand, one person does everything in Japan. Even a restaurant owner who took care of me when I came to Japan helped in the kitchen. So I can reduce labor costs here.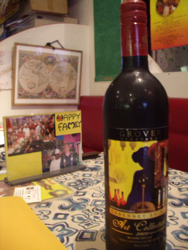 Tons of grapes are harvested in South India so Muthu's home is a wine-growing land.
But Indian people don't drink with their families.



Japanese language ban.
I've been working on Indian cuisine since '77 but I came here by pure accident. As I mentioned, I loved Japanese stuff, but I'd never imagined that I would come here.
A friend of mine told me a Japanese man needed people. My friend introduced me to that man who was going to open a new restaurant. He owned five restaurants in Tokyo and I joined him. I worked at one of his restaurants for three years.
I couldn't speak Japanese at all in the first year in Japan. That's not only because of my language skills but also because of the "Japanese language ban" from the owner. It means I was told not to talk to people in Japanese.
You may think, "What a shame!" but he thought that we would get orders wrong if we took them in Japanese. Also some customers wanted to learn English so he asked us to talk to them in English, not in Japanese. If they needed to ask something in Japanese, an owner or other Japanese staffs answered. So Japanese words that I mentioned in Japanese while working there were "May I help you?" (irasshaimase) "Thank you" (arigato gozaimasu) "Hello" (konnichiwa) "Good evening" (konbanwa), that's it.
You may think that owner was very strict. But he was really kind to me. He bought me snacks when we went shopping. He took me to many places on our days off. I learned the basics of business from him. I owe my success to him so I asked him to cut the tape at the opening ceremony of my restaurant. He seemed to be really happy. Even now he sometimes comes here.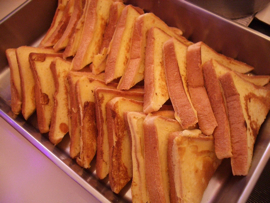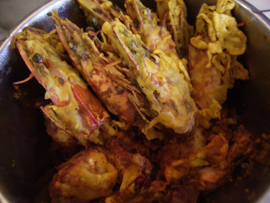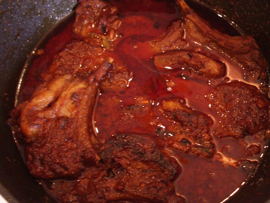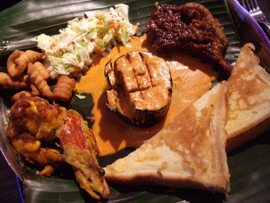 Indian Christmas dinner which he told students how to cook. These are not on the menu yet.



The customer is king.
After I quit his restaurant, I gained experience at many Indian restaurants. I've remade restaurants which suffered from debts. I acquired my confidence through those experiences and opened my restaurant called "Muthu" in 2004. The start-up cash was from my savings. I'd saved money since I came to Japan, which means I planned to own my restaurant here.
After opening my restaurant, I established the 2nd shop in 2005. However I had a bike accident and my head and feet got injured. Then I sold the 2nd one to a Sri Lankan who took care of me before. So actually where we're talking to each other now is the "3rd" one, not the 2nd one. But it's officially the 2nd one.
The good word about my restaurants was spread gradually and some customers came here from Chiba, next to Tokyo, by train. They spent 2,000 yen (about US$25) to go back and forth. I wanted them to spend 2,000 yen on meals instead, so I opened another outlet in Chiba.
I could come this far with God's help. In Japanese, you say "Okyakusama wa kamisama" (Literally means, "The customer is God") and I agree with that. To be honest, I couldn't have profited much. But I've been enjoying the business. Both my kids and I are happy with our daily lives in Japan. I think it's thanks to my customers. I forget tough things when I talk to them.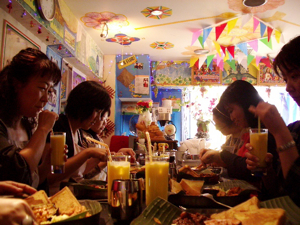 Students beat taste of dishes into their tongues!
Cooking class at 2nd outlet (December 19. 2010)



Making better cuisine than an authentic one.
I enjoy teaching cooking at Niki's class. For example, a student who learned keema curry recipe from me cooked it for her friend and it was a hit. Another student showed me a photo of a meal which she took when she tried to make it. I felt really, really happy with those. My customers and students are very dedicated enough to cook dishes which I've never taught or I don't put on the menu. I was surprised at them very much.
Also you may not believe that, but one of my students who went to South India and tried real Indian cuisine told me that my meal was better!
So I don't get tired even if I teach twice a day (His class is held twice a day). I have an enjoyable time, no advertisements, but I can bring in 30 new customers a month. One new customer a day! I thank Niki's Kitchen from my heart.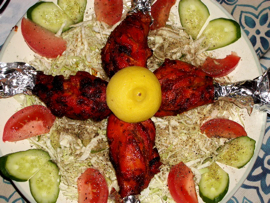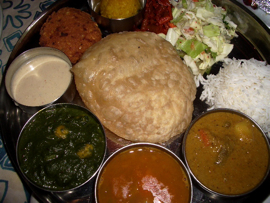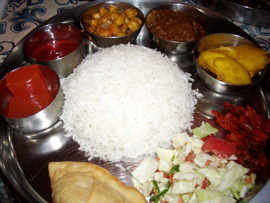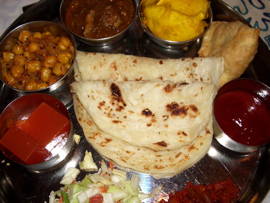 Muthu's Christmas dinner 2010.
(Upper right) Meal for vegetarians with 1 drink & holiday gift. ¥2,500
(Lower photos) Meals with all-you-can-drink & holiday gift. ¥3,500




What is Niki's Kitchen to you?
It's a good system which is satisfactory for students, its operator and me. And I receive "relief" from Niki's. It provides some motivation for me to learn cooking more.
"Relief" means that the number of my customers will increase thanks to Niki's. On the other hand, I have to learn cooking more because relying on Niki's won't secure my future. While learning more, I'll find some hints for improving
my restaurants.
Then I'll improve the menu and my class, then everybody will feel happy. Niki's Kitchen generates such a benevolent cycle.
Muthu's Links
His page on Niki's Kicthen (Japanese):Click!

Muthu's homepage (Japanese):http://muthu.web.fc2.com/
*Muthu usually works at the 2nd outlet. Phone & FAX; 03-3364-8587

Muthu on the radio (Aired on Dec.11) Weblog:Click!