May 11, 2011 (Wed)
#6 Kazuya Ogawa & Pink Subaru (Part2)
Filmmaker



People lead regular lives exist even in extraordinary circumstances.

We are bringing you the interview "Big Generators".
Kazuya Ogawa, a young auteur or film director who made a movie called "Pink Subaru", which is set in a town on the Israeli-Palestinian border.
In this part, we tell you about the true aspects of the Middle East which Ogawa and his staff saw.

*You can go to the first part from here!

*Interview at Omote-sando, Shibuya-ku (by Isao Tokuhashi & Mai Namiki)

*Pink Subaru official website (Japanese): Click here!





When did you step into Palestine for the first time?
The year 2007, after Saddam Hussein, the former president of Iraq, was executed. When people gathered around me, I remembered my childhood. More relatives got together at my house than now on New Year's Day at that time.
And I noticed that many Subarus run on the streets in Israel. I felt like, "Oh, there're many Japanese people". I like to personalize vehicles, that's why I made Subaru Legacy into a beautiful woman in the film.
My idea of the movie derived from that kind of sense of nostalgia and Subarus. There are many Subarus in Tayibe because of the existence of auto thieves and so thought there was something political here given this background. (Most Japanese automakers hesitated to export their products to Israel in the `70s because they placed more emphasis on Arab countries because those had larger markets. But only Fuji Heavy Industries, the manufacturer of Subaru, launched export transactions with Israel and it gained great popularity among Israelis)
I built its story around those episodes. I wanted to reflect what I felt when I first stepped foot in Palestine in Pink Subaru. I wanted to reflect some nostalgia which Japanese may feel as well as I did.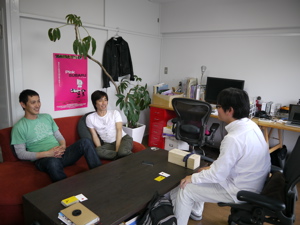 Back right: Kazuya Ogawa Back left: Keisuke Tanaka (Producer)
Photo by Mai Namiki



I went to see this movie without any previous knowledge of it, so I thought it would be a documentary film. I believed that it would tell us the circumstances of the Middle East, but it was totally different. Also the movie was fiction,
not a documentary. To me, it was really fresh. Did you do those kinds of things deliberately?
Yes. I thought of making a documentary but I felt I would cause Palestinian auto thieves problems if I made a documentary chiefly about them.
Also I decided that I would never reflect political circumstances and war in the movie. When I told my idea to Palestinians, everybody was happy with that.
For example, you can see scenes of a Jewish kid and Palestinian kid playing soccer together many times. Those are like clips that show smiles of people in the quake-stricken areas in Tohoku, Northern Japan. I feel it seems intentional. Of course I agree with their messages like "bonding is important", but I feel something is wrong when I hear that over and over again.



I know what you mean.
At a railway station this morning, I heard an announcement which said "Rise up Nippon! Take care not to fall because of the rain." I didn't want to do such a thing so I decided not to tell you about both issues of war and peace.



But I realized that people in the war-torn area live normally through the movie.
On reflection people live normally everywhere. On the other hand, Japanese TV broadcasted footage of parents in Tohoku, who lost their child in the earthquake, submitting a death notification to a city hall. That's imaginable for us. Even if a TV program shows you things that we can imagine are sad, you may just feel sad. That's it.
But if you see something uncommon which is beyond the reach of imagination, you may become aware of the nature of affairs or things that you should do for them. In that sense, even inconceivable things are acceptable for us.
I guess some people who don't know that there are smiling or laughing people in Japan right now. But actually there are. So people lead regular lives exist even in extraordinary circumstances.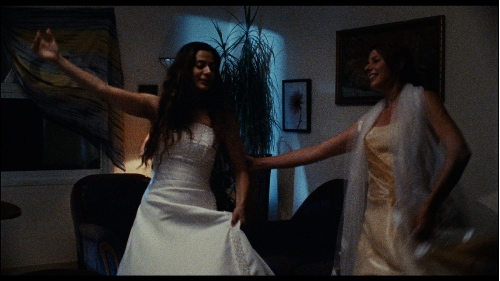 ©REVOLUTION.INC



<Namiki> I am the one who wanted to see regular lives in troubled areas.
I majored in Arabic because I thought that people there must be living normal everyday lives like having tea or celebrating weddings despite what is reported on the news. When I was preparing for university exams, TV news planted us with the image of war in the Middle East because it was in the middle of
the Iraq War. In order to see people's daily lives in that region, I decided to major in Arabic.
<Tanaka> It is said that the probability of being hit by missiles launched from the Gaza Strip is lower than the incidence of traffic accidents there. But it's not known at all among us. Similarly, nobody wants to come to Japan because media tell people in the rest of the world that there could be radiation leaks that were cased by the nuclear accidents. However, young people in Sendai, a million-strong city located near the epicenter of 3.11 earthquake, were having dating parties! But those are not covered by the media at all.
So we wanted to tell the truth which few people do since almost everything dealing with Palestine focuses on conflict.



<Tokuhashi> I guess "things other than the conflicts" correspond to the daily lives such as mixers in Sendai. Media never cover those events.
<Namiki> When I traveled to Palestine for the first time, local boys said hello to me. I don't mean that Japanese girls are popular among them, foreign women are popular in general there.
In 2007, A Palestinian city called Jericho got bombed and a jail was destroyed. When I visited there, a guy showed me around there and told me about the sad events profusely.
<Tanaka> That's more of an excuse for getting girls. LOL



<Namiki> Thinking back now, he wanted to grab my interest. He explained about the bombing, I took pictures, then he asked me, "Are you free later today?".
It dissuaded me a little bit but I felt they were very human and that's why
I decided to go to Palestine to study. I felt, "Oh, they are really normal!"
Arab boys of Israeli nationality often ask girls out in Tel Aviv. They said that they were so popular proudly.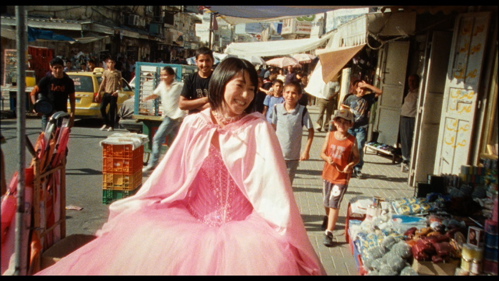 ©REVOLUTION.INC



<Namiki> However weren't you afraid of going to Palestine without prior knowledge?
Not at all because people around me were all Palestinian. And I'd been in New York and Italy and I learned that there must be risks more or less everywhere in the world.
But you would feel easy if you have friends there. When I went to Palestine for the first time, I went to a house of a Jewish friend of Akram Telawe's by taxi and had some tea (*Want to learn about Akram Terawe? Go to Part1) , then he took me to Tayibe. He often enters into the city even though taxi drivers don't want to go to Tayibe directly from Tel Aviv. I felt secure around him.




*Tanaka told us that they were questioned by Israeli soldiers while they were keeping lookouts for set which they used for the final scene of Pink Subaru. But...
<Ogawa> We swapped name cards with them at the end.
<Tanaka> We had a photo taken with them. LOL
<Ogawa> I had the same kind of experience at an airport in Israel. When I was going to leave from there, I faced a barrage of questions. Not when entering. They are not very strict when you get into Israel. They don't ask you what you are going to do in the country. As for me, I answered that I would stay at my friend's house in Israel. That's it.
But they ask you "What have you done in the country". They grill you, but it's a part of military training.

But a soldier mumbled into my ear. "You're Japanese, right? I really love Haruki Murakami's works"!! That's how it goes.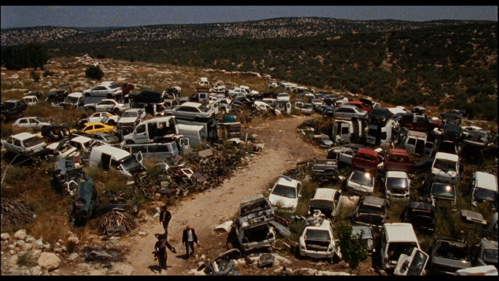 ©REVOLUTION.INC





Click here and go to Part3!
Ogawa's Link
*It'll begin showing on June 25, 2011, at the "Umeda Garden Cinema" in Osaka.