June 25 (Wed), 2008
#5 A-Life
Charity event for the Green Belt Movement


A-Life will give us an opportunity to demonstrate how much we can help people that we have in front of us.
Tokyo Rocks You introduces you to "A-Life" (its pronunciation is exactly the same as "a life"), a charity event for the tree-planting campaign called "Green Belt Movement". It will be held on July 24 - 25.
The Japanese drama group called "Roghouse" and the musical unit "Rose in many Colors" hit it off very well and decided to support tree-planting campaigns in Africa together.
Roghouse usually gives plays featuring the dark side of people's lives. On the other hand, Rose in many Colors performs a so-called "Theat-Live", which means a stage blended musical live performance and living theater together.
Greening and environmental issues. You know how important those are but some people including me might not realize the importance of them because they are global issues. But this project has its roots in organizers' personal thoughts about their daily lives.。


*Interview with
Yumi Hitose (Left: Organizer of Roghouse, Representative of A-Life Committee)
Alpha (Right: Vocalist of Rose in many Colors)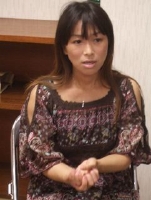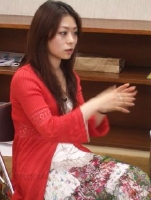 *Interview at a practice room of Roghouse (Koto-ku, Tokyo)




Set in a live house.
Hitose: A-Life is set in a live house and they hold events related to Africa. That's a story but actually A-Life is the event related to Africa. "Is this the real world?" "No, it's just an imaginary world." People would get confused. It's our aim.
So Rose in many Colors will MC on that stage as if they do it on their real live show. They will talk about greening activities, but they won't talk about behind-the-scenes or the story of A-Life. Their live performance will be held in an imaginary live house and we Roghouse reveal the background human events. That's the essential feature of A-Life.
This play is about an event for tree-planting campaigns. A mid-30s live house manager gets into African culture and he wants to go to Africa. He thinks that he will leave the live house to his associate and lives for charity.
Of course it is important for him to go Africa and give a helping hand to people, but how about his job and his associate? Finally he realizes it is much more important for him to help someone in trouble from a place where he is now.
We at Roghouse performed a drama which was set in a live house before. A-Life is also set in a club with live music so it is kind of like the continuation of that story. It would be enjoyable for both people who see our play for the first time and those who saw it at that time.




I loved her voice. That's where "A-Life" all began.
Hitose: We at Roghouse perform with actors from other companies or people who perform in various fields. Our theme is mainly irradiating the dark side of people's lives. We try to irradiate suffering, sadness or whatever people tend to look away from. I don't mean we show them up. We'd rather scoop them. We try to confront people's problems in our plays.
I want people to get their fill of Rose in many Colors' performance. They also originally perform with actors on their stages. I saw their live performances and wanted to stage-manage their shows.
I asked Alpha if I could do that. Also I asked her to come and see our plays. She enjoyed them and suggested we build a stage together.
I listened to Alpha's voice and felt like she called me. I wanted to answer it in the same way I get thirsty and drink water. They have their unique world-view and it was really close to mine. I was very eager to build a stage together so I asked her.

Alpha: We connected with many actors and grew our own network. So we could've built a series of stages called "Theat-Live", which is blended musical live performance and living theater together. But we paused in our musical activity for a year and a half and I pursued solo stuff instead.
When we were back in action, we put on a live show. We used many actors in that show and one of them had played in Hitose's stage.


Rose in many Colors' "Theat-Live", a fusion of music and drama.



Hitose: I loved her voice very much. That's where "A-Life" all began. I was totally captivated by her.
We performed a play called on stage. An actor who appeared in that play also acted in her show. We brought out that play last June and it was supposed to be put on again in the following month.
We didn't choose its theme song for its inaugural performance yet. I wrote script for that play but I couldn't work on it. Because I had to take care of my daughter (Hitose has a two-year-old daughter).
So I asked our stage director to use their song in it. Also asked Rose in many Colors if we could use it. Then we used their song as a theme song of the play in its second performance.




I wanted to be an Environmental officer.
Alpha: I majored in environmental issues in university. But I started my musical career when I was a freshman and I got deeper and deeper with Rose in many Colors. But originally I wanted to enter the Ministry of the Environment so I'm really happy with joining "A-Life".
I have been interested in environmental issues since I was a child. I wanted to be an animal doctor when I was an elementary school kid. But as I learned about world affairs, I thought that I was limited in my thinking. I wanted to protect wildlife rather than animals kept in houses.
When I was a sophomore or junior, our musical activities got into high gear. I was struggling to get course credits. But there were environmental issues in the back of my mind. So this event is a good opportunity for me to express how I feel about the earth's environment.




An actor's death.
Alpha: We had a meeting and talked about our message, the importance of charity and the theme of an event. I suggested to Hitose that we deal with greening because it is my background.

Hitose: When I was 18 or 19, I got interested in charity at that time. I wanted to found a school in Africa because I heard that Audrey Hepburn spent some of her earnings on helping suffering people in Africa. I was really moved by that story and I wanted to be like her.
I left home and came to Tokyo. I was living only for myself and I was not happy with that. I couldn't do anything besides acting so Audrey's idea fitted myself, someone who was trying to restore a mental balance.
After I met Alpha and asked her to perform together, an actor who appeared in our play died in an accident. He was 24 years old and was involved in volunteer activities for children.
We reflected on ourselves after his death. I also wanted to volunteer in some way. My desire which I had in my teens flared up again.
When I was talking to her about this event, I said that I wanted this to be a charity event. At that time, I was interested in a social action program for humanitarian support. So I didn't study about environmental issues yet and I didn't realize that "taking care of the environment means taking care of other people".
Then Alpha suggested to me about making environmental issues the central theme. She has studied those kinds of things for a long time and had much knowledge about them. I said OK to her idea, then we started to run in the same direction.




Hitose: I associated environmental issues with Africa at that time. Then I got to know about Ms. Wangari Maathai in 2006. I heard about her activities and I wanted to get involved in them, such as the Green Belt Movement (*A grassroots non-governmental organization based in Kenya that takes a holistic approach to development by focusing on environmental conservation, community development and capacity building. "A-Life" will donate some of its earnings to their activities).
I'm a mother who has a two-year-old daughter so I really sympathized with her activities. Because she is also a mother.
She has greatly contributed to regional economy with local women. Also she has enriched women's lives and provided education for them. She dealt with environmental issues and people's lives in one project. That really touched me.
I decided that A-Life should support the Green Belt Movement. I'm taking a course in philosophy and A-Life will give me an opportunity to enliven its idea. If I say philosophy is simply, "How much can we help people that we have in front of us?" But it doesn't mean self-sacrifice. If you ruin yourself, you cannot help others. Philosophy teaches us the importance of acting for others and ourselves.




As people who are not yet fully grown.
Alpha: This event is not held by people who are high-profile and rich enough to donate a great deal of money. We are still running towards our dreams and we call for young people to be engaged in our project. We're at an embryonic stage but we try to work hard on global issues or problems in people's lives together. We wish there would be some young people who sympathize with our ideas.
We don't want to force people to do something. We think the best way for us is to be the way we are and make a social contribution. We can do that in Omote-sando, one of the most popular towns among young Japanese.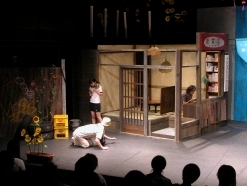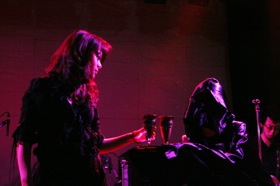 How will these two different stages be fused together?




A-Life's Links