July 3, 2011 (Sun)
#7 Camila Furuhata
Colombian cuisine @ Daitabashi, Setagaya-ku (She's been in Japan since '96) 


Niki`s Kitchen has strengthened family ties and has brought us closer.

My Eyes Tokyo brings you interviews with teachers from "Niki's Kitchen". It's a cooking school in which foreigners teach their homeland dishes to Japanese people.
The 7th interviewee is Camila Furuhata from Colombia, who is gentle and has a brilliant smile just like an angel. I am the one who got healed by her smile and couldn't help asking her kiddingly, "Can I stay here and have dinner tonight?" Then she told me with a big smile, "Well, you'd get just bread and coffee. OK?"... She is absolutely charming.
Actually, one of the students who tried Niki's class for the first time said "It's like a mom of my friend's teaches me her cooking at her house." Just like that. It's all about Camila's class. Why don't you try an adventure of her Colombian cuisine?


*Interview at Daitabashi, Setagaya-ku.

*Compiled by: Tomomi Tada, Isao Tokuhashi

*Translation: Tomomi Tada

*Click here  to learn about Niki's Kitchen.






An experienced teacher.
I have been teaching at Niki's kitchen for four years. I guess I am sort of an oldie. What I like about Niki's Kitchen is that I can teach both Colombian cooking and its culture together. Also all the students are really nice. Some of them have visited my house as guests.
Before Niki's, I had classes at a community center in Machida, Tokyo for about three years. The concept was different from Niki's. It was "learning Spanish through cooking". So I thought it was quite easy because I didn't have to speak any Japanese as I wasn't good at speaking Japanese. All the classes were in Spanish, students came there to learn language. It was interesting.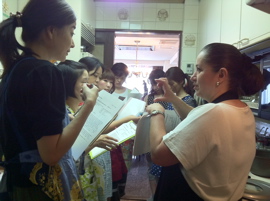 Recommended chef by Colombian embassy .
I was introduced to Niki's Kitchen by the Colombian embassy in 2007, because Niki-san (Naoko Tanase, a representative of Niki's Kitchen) was looking for a teacher who could teach Colombian cuisine at a class.
Though I started to live in Japan 15 years ago, I had visited Japan now and then since my Japanese husband and I met and got together in Bogota, the capital city of Colombia. At the time, I was known as a great chef by the embassy since I had been helping them as a volunteer worker for "Latin American Bazaar", which is held in every November.
As soon I heard about Niki's, I got interested in it and thought "Great, I love it!" When at the community center in Machida, I borrowed the room for the classes, and it was not a fancy place at all. On the other hand, inviting my students to my house made it possible for them to see, feel and enjoy Colombiaism more sensitively. I am not a professional chef though I enjoy teaching at Niki's even casually as if I do it to my friends.




"Tamales" is mom's home cooking.
My mother liked cooking. She often cooked "Tamales", made of masa (a starchy dough, usually corn -based), which is steamed or boiled in a leaf wrapper. She also loved inviting friends every week. So I wasn't afraid to let some strangers into my house. There was no resistance at all.
Moreover, I love cooking. Since I was seven years old, I have used a knife under the watchful eye of mom. What I made the first time was a pound cake. I still remember that. I didn't think even it was dangerous as I am the youngest of five kids. When mom wasn't watching, somebody was always with me and took care of me.
 I watched what my mom was doing in the kitchen.  After I learned something, I wrote them down as my recipes.  But didn't mention quantity of food indicated in it. When I cook, dishes are usually done with the eye because I remember the taste of "Mom's home cooking". But I promise that my recipes are in Niki's; they have them. Don't worry about it.
You know what, many of the recipes which I have been providing Niki's are actually from my mom. So what you cook in my class might be my "Mom's home cooking". For instance "Tamales" that I mentioned before. We did it in the class last February. That is "Mom's home cooking".
The thing is that was the first time I cooked it since I have been in Japan. Why I decided to do it? Because of Niki-san. She has asked for me to do that for her. But I have to tell you that "Tamales" is one of the hardest dishes to make in Japan. It's made of corn based dough with ground meat seasoned with chili and pepper, which is steamed in a banana leaf wrapper. First, getting banana leaves is difficult. Second, it takes a long time to prepare to make it. That is why that was the first time in my life since coming to Japan.

*Look at the photos of her tamales class from here!




Niki's classes are supported by a whole family
Incidentally me and Niki-san decided today's menu. Unfortunately "Mom's home cooking" is not here, but all of them are my favorites. The rounds of beef dishes are very popular in Bogota, and the others are good and simple dishes.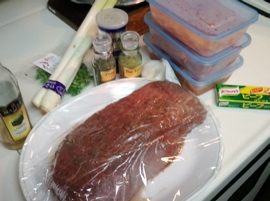 Beef round with green pepper roll and champinignon sauce. Camila says Colombians eat beef the most at home.
Photos by Tomomi Tada


When I choose the recipes in the class, I consider their taste whether they are familiar to Japanese. Let me ask you what you think about "Coconut rice", one of today's dishes. I guess it's not so familiar to Japanese people, right? I did care what students would feel about it, if I introduced "WHITE RICE" with "COCONUT". As I knew eating white rice is very important for Japanese people.
In these cases, I always consult my husband and my daughter. When you hear white rice with coconut, you would think it is quite weird though, in fact it is not so much as you might think. So we were sure that this is a new taste for students but they were going to love it. Just like this, to decide a dish, we talk about what kind of Colombian food would suit Japanese taste buds.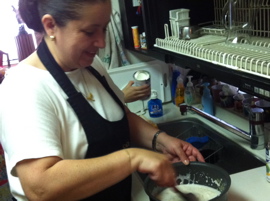 Coconut rice is being made.


By the way, my recipes are written in Spanish. My husband usually translates Spanish into Japanese. In case he is busy, my daughter helps me instead. Since he loves cooking as well, he enhances the taste by getting a little creative with it.
Let's say I use one onion for some dish. Then he would give me plenty of suggestions during his translation, such as "Two onions are better for that." "Why don't you put some garlic here?" The whole family gets involved in Niki's to create superb classes.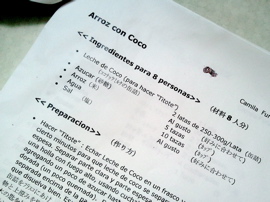 Her whole family prepares recipes.
Photo by Tomomi Tada




Behind her angel smile.
To be honest, I had never imagined that I would come to Japan. I didn't have any special interests when I was in Colombia. As I mentioned, I met my Japanese husband in Bogota. But there was no intention to meet Japanese people there. Also I didn't care who was Japanese or Colombian. I just loved him. "Muy enamorado" or "Mucho amor" if I would say my feelings in Spanish.
However, it's a whole different story moving to Japan. I was very much anxious about living in Japan. As I didn't understand any Japanese; besides he worked weekdays.
When I used to visit Japan now and then, 23 years ago, I had a difficult time. After my daughter was born, the things were going to be changing better. But we had moved to Brazil and Thailand because of his work and then came back to Japan. From the time we settled down in Japan, 15 years ago, I had been struggling with the difficult time for years again.
"How come I could make a decision to come here?" I really missed my country. I experienced a bunch of culture shocks. Above all, I couldn't join Japanese society because of language issue.
On the other hand, me and the members of the Colombian embassy who speak the same language  had been keeping good company since I came to Japan the first time 23 years ago. And yet they take turns just a couple of years by rotation, the relationships with certain people were obviously limited.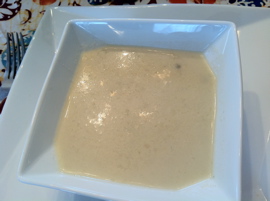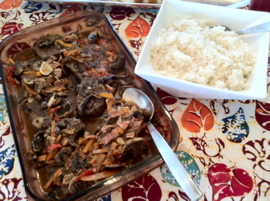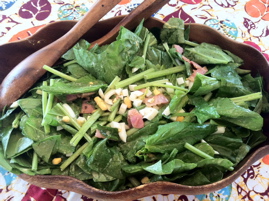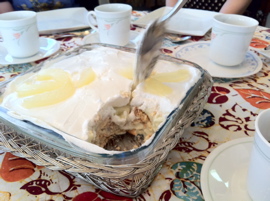 Menu du jour. Some of them are based on Spanish dishes.




A ray of light.
But I did it. I did overcome the shocks. I made myself busy by being active and involved in volunteer work for the Colombian embassy hard. Those of them worked so that the things around me seemed to be getting stable little by little.  
What's more, the volunteer work brought me to this fantastic Niki's kitchen. I am able to show my students how my country is. That really makes me happy. And I think the bound as a family became much closer through preparations such as creating the recipes.
Are you asking me if I want to continue to join Niki's kitchen? Absolutely!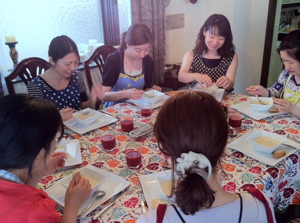 What is Niki's Kitchen to you?
It's an opportunity where to show what my country is, how I am like, and the food culture of Colombia through cooking.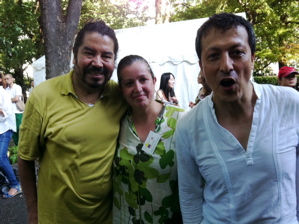 People whom My Eyes Tokyo interviewed got together in one place by chance!
(Far left: Luis Carlos Severich Far right: Hector Sierra)
Colombian Festival (Hibiya Park, Tokyo July 17, 2011)